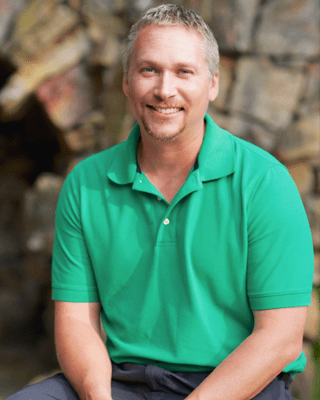 Larry Cantrell
MA, LPC
Larry and his wife, Nerissa, have been married for 16 years. One of his greatest joys has been spending this time growing together, learning more about each other, and watching their marriage strengthen over time.  Together, they have 4 boys, who provide a sense of joy and pride, along with the typical shenanigans and noise that boys provide.  They look forward to time together, whether that is Friday night movie night (mostly superhero movies), camping and vacationing together, boys weekend out trips, and family walks.  They have 3 dogs to add to the lovely chaos but they wouldn't have any other way.  FYI, the dogs are all female to try to balance out the equation. 
Larry received his MA in Marriage and Family Counseling from Southwestern Baptist Theological Seminary in Fort Worth, TX, in December 2013. All courses and related subjects are in agreement with the licensing board in Arkansas. Currently, he uses skill sets from Client-Centered Therapy, Cognitive Behavioral Therapy, and EFT (Emotionally Focused Therapy). He is trained in CPT (Cognitive Processing Therapy) designed to treat PTSD.  He is also a certified facilitator of the SYMBIS assessment, which stands for Saving Your Marriage Before It Starts.  This assessment is beneficial for those seeking premarital therapy or married couples who are seeking ways to strengthen their marriage.
Larry has 15 years of experience in the counseling profession, 14 of those as an LPC. Larry began his practice working with at-risk teenagers in an alternative school setting in Mountain Home, AR.  Upon moving to Fort Smith in 2014, Larry began working with adults in an outpatient setting at Perspectives Behavioral Health.  He then transitioned to working specifically with those troubled by PTSD and other trauma-related disorders.  He also served as the director of clinical services for a little over a year.  In 2017, he transitioned to the private practice setting, where he enjoys working with the adult population who are battling PTSD, depression, and anxiety.  One of my greatest joys in this profession is helping people realize their strengths and abilities, their gifts and talents that are typically buried under the many adversities and struggles that life brings.  When clients shed those false identities and see who they can be, who they are, there is hope and passion that is often fostered that creates a whole new world of possibilities.
He also takes great pride in working with married couples, seeking to bring healing and joy to their marriage.  Helping and watching couples learn more about each other, how to communicate better especially during times of insurmountable conflict, how to love, respect, cherish, and appreciate each other, how to recognize their desires and expectations are the common goals when he works with couples. 

Larry builds a strong therapeutic rapport with his clients and offers them his experience, hope, and connection on their journey. Larry is available to see clients with behavioral, relationship, or traumatic issues.
Education
Masters of Art, Southwestern Baptist Theological Seminary
Licensed Professional Counselor
Fun Facts
He loves most sports, but beach volleyball and golf are his favorites
He began preparing for and running in 1/2 marathons after his wife Nerissa challenged him to become healthier
He completed a lazy man iron man competition
His family has a history of 50+ year marriages and he would like to continue the legacy for his family and generations to follow
[/one_half_last]