We've moved! Our new location is 4200 Jenny Lind Road, Suite C Fort Smith, Arkansas, 72901
Anchored Hope Counseling is a counseling practice that welcomes people with a broad range of issues and challenges. We provide a safe place for our clients to get help, hope, and healing. Sometimes in life, it feels like you have nothing to hold on to; we want you to know that you can anchor your hope with us while you weather whatever storms you may be facing.
Anchored Hope Testimonials
What Our Clients Have To Say
"A couple of years ago my life was completely out of control. I had been living with many dark secrets for most of my life. I was very active in my twenty-nine year eating disorder. My drinking was killing me and my relationships. I had been running from so many demons for so long. I finally reached out for help and I had no idea where to start. I somehow managed to get a number for Dr. Deborah from someone and I called her one evening and made an appointment to see her. It was the best thing I ever did for myself. Dr. Deborah welcomed me with open arms. I couldn't believe how comfortable I was talking with her and how quickly she figured me out. I have had many therapists over my life and NONE have shown me compassion and unconditional acceptance like she has. Dr. Deborah grabbed my hand and started walking me out of the darkness. I thought I could never talk about the terrible trauma I had experienced but Dr. Deborah took her time with me and helped me understand that it was going to be okay and I was not alone. I am now at a great place in my life. If you or someone you love are in need of someone to take your hand, give Dr. Deborah a call. We can not do it on our own — God knows I tried."
– Chance C.
"I started seeing Deborah about 12 years ago with my kids, then 12 and 7. As soon as we sat down for our first session, I knew I had finally found a counselor that would listen and help. Deborah is very down to earth and passes no judgment on any of her patients. She listens intently and then offers good, sound advice on how to heal or get past issues that are holding you back. Sometimes her advice was hard to hear, but she is not the type to sugar coat things just to make you feel better. She was able to draw things out of my family that were hidden so deep we didn't even know it was an issue. Today, I still see Deborah whenever I am in need of clarity, and she still amazes me."
– Kimberly D.
"Dr. Deborah has been helping me for over a year now. I look forward to every visit I have with her. Wrestling with the wounds of my childhood and the accompanying growing pains is a challenging journey, but Dr. Deborah helps me see the positive side of every situation. Since day one, her outlook and fierce belief in redemption and the importance of hope have encouraged my personal growth. She provides practical advice to help me lower my anxiety while also encouraging me to live life to the fullest! Her words help me see that the power to heal is in my hands and that nothing in my past can keep me from being whole and happy."
– Lydia B.
"Thank you so much for the time you have invested in our family. My wife and I are very grateful we have you. We needed help at one of the darkest times in our lives and you were a gift from God. You were that help. We are also so very thankful for your help with our son. He wouldn't talk to anyone but me for a long time. Since he has been coming to you for counseling, he is much more himself than he was before.Though you are our therapist, we feel more like you are family."
– Tommy M.
"I nervously came to see Dr. Deb when I was going through a family crisis. I was also grieving. I felt as though my life was going in 50 different directions, and I didn't know which way to go! Dr. Deb welcomed me with an open mind and an open heart. She wanted me to figure out my path just as badly as I did. She walked me through some of the hardest times of my life, and she did so with honesty and love. Throughout the entire process, and even today, I truly feel Dr. Deb cares about EACH patient. I wholeheartedly recommend Anchored Hope Counseling."
– Heather A.
"I have been going to Dr. Braboy for long enough to realize that she is not only my therapist but she is also my friend. She encourages me to believe in myself and helps me to realize my abilities and my God given gifts. I would encourage anyone who is struggling in life to give counseling with her a chance."
– Debbie L.
"There is no one I would trust more with the mental health of my family and myself then Dr. Braboy. She has a positive outlook and down to earth approach to treating her clients. I highly recommend her services to anyone who is in need of hope or direction. Her professional skills are the best but I most appreciate the way she truly cares about her clients. "
– David N.
"My daughters and I have been clients for 2 years of Dr. Deborah Braboy. We have had struggles related to addiction of a family member, and Dr. Braboy has guided us through the complexity of this family disease. I have been a single parent for almost 12 years. Dr. Braboy has given me tools to handle stress, anxiety, and depression, which have helped me immensely. We see Dr. Braboy monthly, and it has helped our family become closer, stronger, and loving. Her approach with an authentic, genuine concern for our well-being, enhances our 3-person family unit. "
– Karen B.
"Dr. Deborah held our hands through the darkest moments of our life, a disrupted adoption. She fought for us, cried with us, and celebrated our triumphs when joy began to return. She is always available, always willing to listen, always willing to help. She doesn't ever just tell us what we want to hear. Over time, as a transracial family, I began to realize that we would likely always need Dr. Deborah in our lives. Adoption grief is something that returns with each stage of maturation. Our children continue to grieve, in new ways, the loss of their birth family and what that means for them. There are times we will go months without seeing Dr. Deborah when, suddenly, a fresh wave of grief overtakes us and we say, "that sounds like something Dr. Deborah could help us with." In this way, I think she will just be a lifelong friend to us and our children, always there when we need her. In short, I cannot imagine trying to do life without her by our side. She is that amazing. "
– Dr. Dustin D.
"Deborah's life coaching style works with athletes! She carefully listens and identifies what inspires and challenges me. She strives to get to the point and discovers what works. Besides being a joy to work with, Deborah is a take-charge person who is realistic and able to present creative ideas and communicate the benefits. Her creativity, resourcefulness and ability to see a project through really makes her distinctive and successful. I highly recommend Deborah as Life Coach for athletes at all levels. She understands athletes and the unique issues athletes face. She is a team player and would make a great asset to any organization."
– Ron O.
"I have been very blessed to have known Dr. Braboy since I was a teenager. Even when I barely had hope she gave me hope that my life would get better. If you let Dr. Braboy be your counselor, you will be forever changed just by knowing her."
– Faith A.
"I feel so lucky that we chose Dr. Deborah for our couples therapy, and that she came into our lives when she did. We have been seeing her for a year and the progress we have made in our communication and problem solving skills has given us such a renewed sense of hope, understanding and love for each other. It has been a difficult journey where she has helped us confront some major problems, become aware of negative behaviors and take responsibility for them. She has been so patient in her approach, listens intently, gives us tools and advice that we can implement right away and never judges. There is nothing I can't say to her. My husband and I are truly fortunate to have found her and would recommend her to anyone seeking counsel!"
– Ashley B.
Contact Us Today
We are here to assist you
Anchored Hope Blog
View More Blog Posts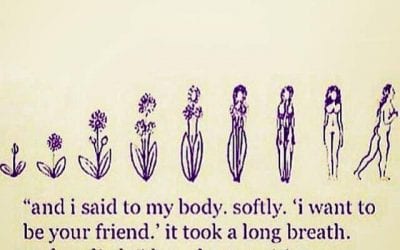 First off, a letter to my body:
I haven't been kind to you. I am so sorry for the horrible things I have said to you.
read more